Latronics PV EdgeGrid Connect Inverters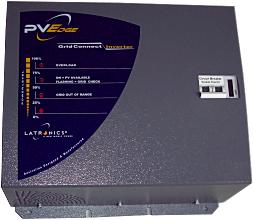 The Latronics® PV Edge Series Inverter utilizes the most
advanced microprocessor algorithms which guarantees
your power conversion is pure and stable.
Technical Specifications
Model

PVE1200

PVE2500

Input






Maximum DC Input Power


1200W
2500W
Maximum DC Input Current
22A
22A
Maximum DC Input Voltage

100V
200V
Maximum Power Point Tracking Range (MPPT)

55VDC - 90VDC
110VDC - 180VDC
Automatic Turn ON (MPPT - ON)

70VDC
140VDC
Automatic Turn ON (MPPT - OFF)

54VDC
108VDC
Starting Operation

10W
10W
Number of Modules Per String

4 x 12V Modules or
2 x 24V Modules
8 x 12V Modules or
4 x 24V Modules
Output





Output Power

1000W
2100W
Output Voltage Range
205 - 265Vac

Output Frequency
50Hz (+/-1Hz)

Peak Efficiency
93%

Night Time Power Consumption

NIL - Automatically Disconnects from AC Grid

Power Factor
1

Total Harmonic Distortion (THD)
<4%

General





Status Indicators

Output Power In 25% Increments, Grid Monitoring - Stability Check,
Solar Input ON, Grid Fault, Overload

Protection
Overload, AC Over/Under Voltage, DC Over/Under Voltage, AC Frequency,
Reverse Polarity, Overtemperature, Anti-Islanding

Weight
11kg
22kg
Dimensions
330mm H x 296mm W x 150mm D
370mm H x 386mm W x 180mm D
Input/Ouput Isolation
3500V

AC & DC Isolation

Thermal/Magnetic Circuit Breakers

Output Wiring

3 Terminal Hardwire Junctin Box

Chassis
Powder Coated 3mm Aluminium

Standards

AS3100, AS4777, EN55014, & C-Tick, Certificate of Suitability

Warranty
3 Years

Ratings
Specifications @ 25°C Ambient

Due to constant improvements specifications are subject to change without prior notice.

Fronius IG 15 / 20 / 30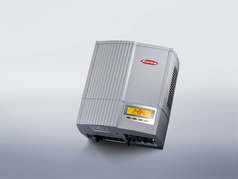 Mains-connected inverters
The reliable PV inverter series.
The Fronius IG series has proven itself to be powerful, user-friendly and highly reliable. Equipped for every size of PV system, especially for smaller systems (e.g. on the roof of one-family houses). The combination of different types available for selection is limitless. The ingenious processor control combined with the powerful HF transformer extracts the maximum energy yield from all types of modules.
Fronius Technical Data
---
Fronius IG

15

20

30

Input Data

MPP voltage range
150 - 400 V
150 - 400 V
150 - 400 V
Max. input voltage (at 1000 W/m²; - 10° C)
500 V
500 V
500 V
PV system output
1300 - 2000 Wp
1800 - 2700 Wp
2500 - 3600 Wp
Max. input current
10,8 A
14,3 A
19 A

Output Data

Nominal output
1300 W
1800 W
2500 W
Max. power output
1500 W
2000 W
2650 W
Max. efficiency
94,2 %
94,3 %
94,3 %
Euro efficiency
91,4 %
92,3 %
92,7 %
Mains voltage / frequency
230 V / 50 Hz (60 Hz)
Distortion factor
< 3,5 %
Power factor
1
Power consumption at night
0 W

General Data

Size l x w x h
366 x 344 x 220 mm (500 x 435 x 225 mm)
Weight
9 kg (12 kg)
Cooling
controlled forced-air cooling
Protection class (housing)
IP 21 (IP 45)
Ambient temperature range
- 20 ... 50° C
Permissible humidity
0 ... 95 %

Protective Devices

DC insulation measurement
warning when Riso< 500 k Ohm
Polarity reversal protection
built-in
Behaviour on DC overload
displacement of operating
Fronius IG Outdoors
---
The Weatherproof
The Fronius IG Outdoors has been created specially for use in the open air and has been tested to an IP45 degree of protection. This ensures a continuous circulation of air that prevents condensate from collecting. The inverter is also protected against the entrance of solid particles and hose water. It is also reliable and safe to use near the sea due to a special protective coating applied to the printed circuit boards within the inverter.
The Fronius IG Central Inverters are optionally available in a housing tested to an IP43 degree of protection, what means that these inverters can also be used for outdoor application.
Fronius Outdoor Technical Data
The Technical Data of the Fronius IG Outdoor inverters are equal to the devices in Indoor-housing.
The data only differ in the points "Dimensions", "Weight" and "Protection class".
For detailed information please have a look at
Technical Data Fronius IG 15/20/30
Technical Data Fronius IG 40/60 HV
Technical Data Fronius IG Central Inverters

Fronius System Monitoring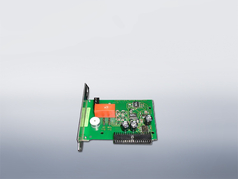 Fronius Signal Card
The Fronius Signal Card is the guard dog of your pv system. A plug & play card that sends you audiovisual warnings in the event of status changes in the inverter.
The Signal Card becomes active if any fault occurs that is signalled to the inverter. A floating contact is actuated and a warning signal is sounded.
The Fronius Signal Card works autonomously; it requires absolutely no other components of the Fronius DATCOM system. However, you can operate both systems in parallel.

As an option you may also connect a warning light to provide a visual signal.

The Fronius Signal Card may be added as a retrofit at any time, as well.
---
Fronius Personal Display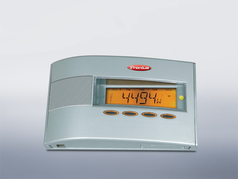 Anyone who wants to keep up to date with the output data of his installation but does not want to run to the inverter to read off the values every time, can now use the Personal Display.
Simply place it in the desired room at home and you can read off all the current data from up to 15 inverters at any time. Data transmission from the inverter to the Personal Display is executed via radio transmission.

At night the Personal Display presents the collected data from the previous day of sun.

Just with a little more convenience and greater user-friendliness. Installation is easy: insert the Personal Display Card into the Fronius IG inverter, attach the antenna on or close to the inverter, set up the Personal Display in the house and away you go.

No holes and sealing, no costly laying of cables – just plug & play. The wireless radio link makes it possible regardless of whether you use Fronius DATCOM or not.
---
Fronius DATCOM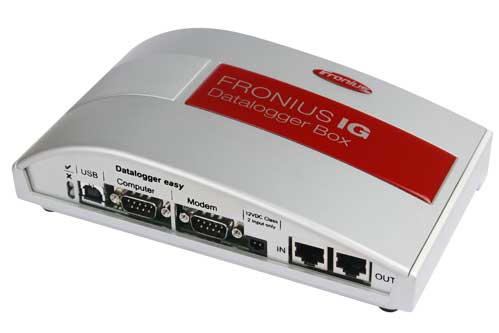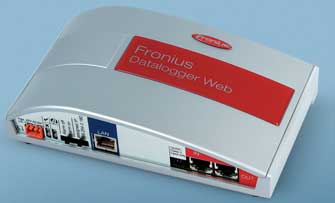 The Fronius DATCOM-system - like everything else at Fronius IG - is of modular construction, which means you can select exactly the components you need. Whether you are already thinking about purchasing a Fronius IG now or not until later - all the parts can be retrofitted at any time. This is what makes the system so lean, flexible and, of course, cost-efficient.
The required basic components for system monitoring are:
One Fronius Com Card per inverter
Fronius Datalogger
Fronius Solar.access software

In addition to the basic equipment, the Fronius DATCOM-system offers many other components and possibilities for system monitoring:
Construction of a weather station with special sensors.
Data visualisation in the general public, e.g. with an own large screen, the "Fronius Public Display".
The "Fronius Interface Card / Box" has a serial interface with an open data protocol that enables the latest PV data to be downloaded from the inverter and processed.

To download the latest version of our Fronius DATCOM brochure as well as the datasheet of the new Fonius Datalogger Web please visit our download area, column "PV system monitoring" respectively "Fronius Datalogger Web".

LD SERIES INVERTER FEATURES

Selectronic Australia is proud to introduce the LD series of sine wave power inverters, incorporating the latest technology from Australia's leading inverter manufacturer.
Packed full of style, reliability and performance, these compact true sine wave inverters provide mains style power for those smaller applications wherever it is needed.
Simply connect the inverter battery leads to an appropriate battery or batteries in your car, mobile home, caravan or household power system and you're away. It's that simple.
These low cost, high performance Sine Wave inverters provide the convenience of use of 240 volt domestic appliances in an area where power is not normally available.
In a peaceful bush campsite, a remote outpost, on the water, or in your car or caravan, or household power system you can operate lights, kitchen appliances, television, power tools, etc.
Care must be taken to determine that the appliance usage does not exceed the output power or the output current of your LD inverter. Check the rating label on the appliance and compare this with the inverter output power that suits your needs in the specifications below.
Specifications
Max. load current
10/20 A according to model number @ 25°C (without solar current at 50°C )
Max. solar panel current
10/20A according to model number @25°C (without load current at 50°C
Dimensions
89 x 90 x 38 mm (wxhxd)
Temperature compensation
-4mV/cell°K
Weight
168 g
Max. wire size
16 mm2
Self consumption
<6 mA
Case protection
IP22
Ambient temperature range
-25°C to +50°C
---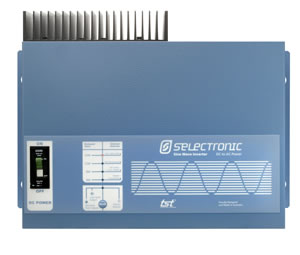 WM SERIES INVERTER
WM SERIES INVERTER FEATURES
The Selectronic range of Sine Wave Inverters has in it's most basic form the normal Selectronic high standards of quality, reliability and performance all wrapped up in a simple and uncomplicated package.
Available in three models - the WM1200-12, (12 Volt unit) and the WM1000-24 & WM1500-24 (24 Volt units) - that each include superb Selectronic half-hour ratings and surge ratings (see specs below) and standard features such as adjustable demand start, low volts adjust, AC overload & temperature overload protection, status & alarm indicators.
With wall mount or bench mount ability, hard wire facility on all models, main DC breaker and a five year warranty, a Selectronic Sine Wave Inverter will please the most discerning of all purchasers.
The inverter also has a built in Serial Port Expansion Interface allowing the addition of a permanent remote Key Pad access or the ability to adjust the inverter settings by either installer or owner via a temporary remote key pad.
of evening for each day.
SMA SUNNY BOY
Sunny Boy 1100
The Sunny Boy 1100 has an extended input voltage range of 400 V, meaning that we offer you an inverter which allows the implementation of a multitude of module configurations.

Features:
Integrated DC load-disconnecting switch ESS
Electric separation
For indoor and outdoor installation
Extended temperature range
Worldwide SMA service and SMA Serviceline
Comprehensive SMA warranty program
---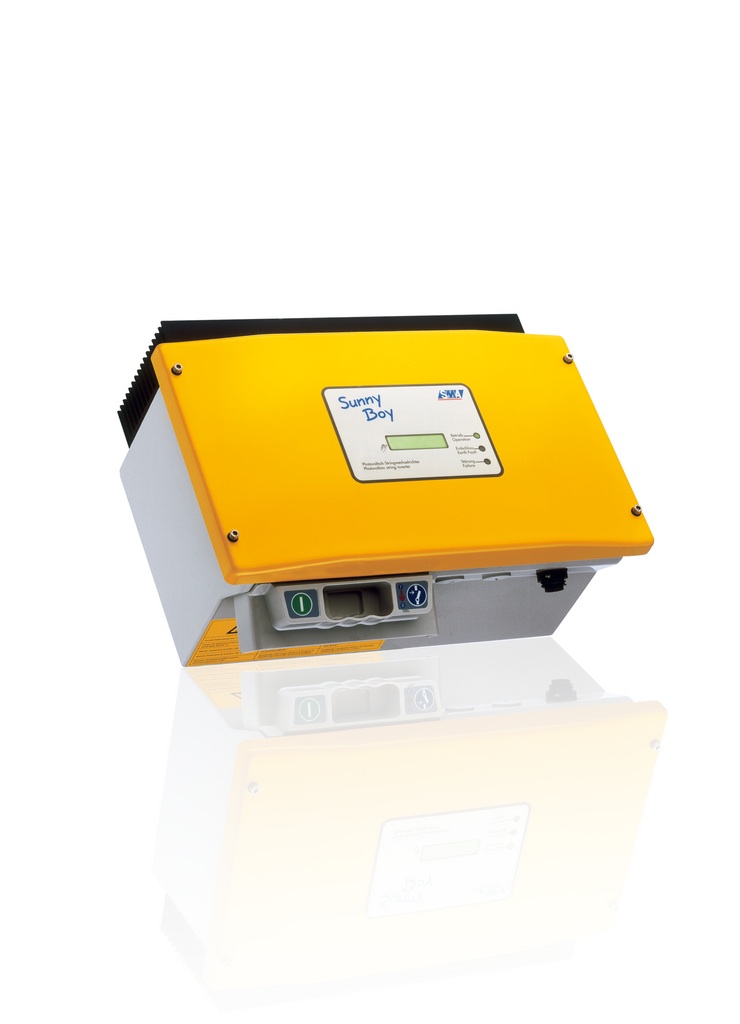 Sunny Boy 1700
The Sunny Boy 1700 completes our portfolio of inverters for the medium power range. Its input voltage range of up to 400 V makes it the optimal choice for PV generators with an output of around 2 kWp.
Features:
Integrated DC load-disconnecting switch ESS
Electric separation
For indoor and outdoor installation
Extended temperature range
Worldwide SMA service and SMA Serviceline
Comprehensive SMA warranty program

Adjustable: All settings are adjustable, and are stored in non volatile memory so you don't lose your custom set up if the unit needs to be disconnected from the battery.
Display: User friendly LCD display. Each number has a label.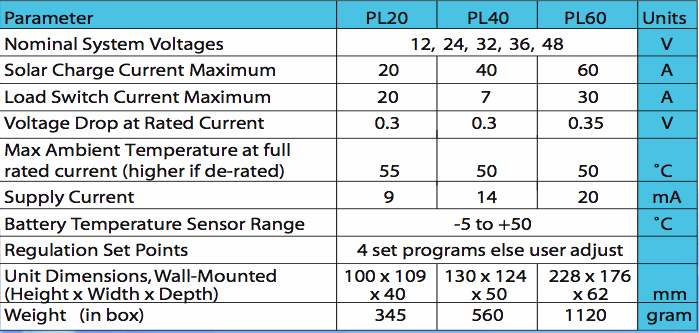 Energy metering: Daily Load and Charge Ah plus State of Charge, all recorded for 30 days.
Four Stage Regulation: Boost, Absorption, Float, and Equalisation available as appropriate for the battery type.
History: Records Charge and Load Ah, Max and Min battery voltages, SOC, and Float times for the last 30 days. You can tell how much energy was really collected and used. This history can be very useful when diagnosing a system problem.
Generator Control: A sophisticated generator controller is included, with four different modes
of control, and a quiet time option.
Event Control: A powerful event controller/timer allows the Load and/or General Purpose terminal to turn on or off a wide range of loads (eg pumps, lights, motors etc.), under a user specified set of conditions.
Alarm: There is an adjustable high or low battery voltage alarm output, which can drive an external alarm device.
Second Battery: When the main battery is full, the PL can supply a signal to switch a relay, so that some or all of the array can charge a second battery. The second battery charging is also controlled.
Remote control: The PLM remote display allows all functions to be accessed from up to 100 metres away. Fits in a standard light switch mounting plate.
Data Comms: Communication with a computer is possible via the optional PLI interface. This allows fast downloading of all data and adjustment of settings. Can be used via a modem for remote sites etc.
Protection: Protected against short circuits, reverse flow, and lightning. Low battery load disconnect function built in. Current limiting in the event of over temperature or over current. Full conformal coating protects against corrosion.
External Shunts: Up to two external shunts can be added using optional DC isolated PLS2 shunt adaptors. Inverter and/or battery charger current and other external currents can be included in the Ah readings and SOC.
Pl Regulators
RPL20
RPL40
RPL60
---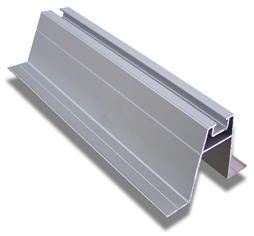 Easy-Rail
Easy-Rail is an economical aluminium solar rail section for mounting solar modules to flat, corrugated or tiled roofs.
There is no need for fitment of additional feet as this is already incorporated in the rail base. Top slots for the rail bolts and a groove in the foot section to align fastening screws make it easier to install.
Longitudinal slots on top edge provide added grip for securing end clamps.
Convenient lengths are available and these come coated in a durable anodized finish.
Easy-Rail
ASPMRA2840 Solar Easy-Rail
ASPMRA3150 SOLAR EASY-RAIL
ASPMRA3500 SOLAR EASY-RAIL
Morningstar Solar Regulators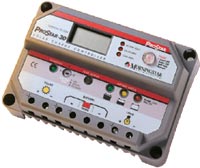 ProStar
Morningstar's ProStar is the world's leading mid-range solar controller for both professional and consumer applications. This second generation ProStar:
• Adds new features and protections using highly advanced technology
• Provides longer battery life and improved system performance
• Sets new standards for reliability and self-diagostics
Standard Features:
• Versions available: 15 or 30 amp 12 / 24 or 48 volt negative or positive ground
• Estimated 15 year life
• PWM series battery charging (not shunt)
• 3-position battery select: gel, sealed or flooded
• Very accurate control and measurement
• Jumper to eliminate telecom noise
• Parallel for up to 300 amps
• Temperature compensation

Tropicalization: conformal coating, stainless- steel fasteners & anodized aluminum heat sink
• No switching or measurement in the grounded leg
• 100% solid state
• Very low voltage drops
• Current compensated low voltage disconnect (LVD)
• LED's indicate battery status and faults
• Capable of 25% overloads
• Remote battery voltage sense terminals
Electronic Protections:
• Short-circuit — solar and load
• Overload — solar and load
• Reverse polarity
• Reverse current at night
• High voltage disconnect
• High temperature disconnect
• Lightning and transient surge protection
• Loads protected from voltage spikes
• Automatic recovery with all protections
ProStar
RMSPS15
RMSPS15M
RMSPS30M
RMSPS30
---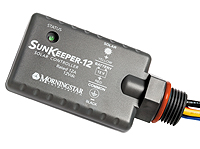 SunKeeper
Morningstar 's SunKeeper solar controller provides a low cost regulated output directly from the solar module to maximize battery life in small solar power applications. The SunKeeper is epoxy encapsulated and rated for outdoor use. By mounting directly to the module junction box and wiring through the junction box knockout, the connection is weather-proof. This eliminates the need for an additional housing for the controller.
The SunKeeper is available in a 6 amp or 12 amp version (both at 12 volts DC). To withstand the high temperatures at the solar module, the controller has been designed using extremely efficient power electronics and is rated to 70°C. The SunKeeper is also certified for use in Class 1, Division 2 hazardous locations, making it an ideal controller for solar powered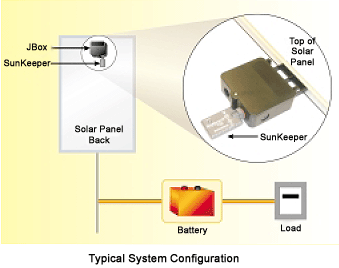 oil/gas applications.
SunKeeper
RMSSK6
RMSSK12
---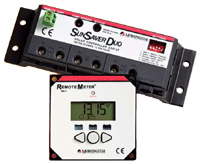 SunSaver Duo

Two Battery Solar Controller with remote meter
Morningstar's SunSaver Duo is an advanced PWM two battery controller for RV's, caravans, boats and cottages.
This product will charge two separate and isolated batteries at the same time, such as a "house" and an engine battery, based on user selectable priorities.
The SunSaver Duo employs Morningstar's legendary SunSaver controller technology, whose long-term track record for high reliability and improved battery charging is well-recognized in the solar industry. This controller also includes a backlit remote meter which may be mounted in or on a wall, and displays digital and pictorial status
information about the solar power system.
The SunSaver Duo is epoxy encapsulated for environmental protection, is user adjustable via DIP switch or connection to a personal computer, and has an optional remote temperature sensor.

Two Battery Charging
Solar charge current is shared between the two batteries based on a user selectable priority. When one battery is fully charged, all of the charge current flows to the other battery.

Provides Useful information
The remote meter and LED's display system status data and any system errors. Custom icons and back lighting make the meter easy to read and understand.

Lower Cost
Two battery charging eliminates the added cost of two separate solar charging systems and the need for isolation between the batteries.

Easy to Install
The controller is installed near the batteries using the clearly labeled large wire terminals. The remote meter may be mounted in the wall or on the wall using the included frame. Also includes the meter wiring with RJ-11 connector.

Longer Battery lLife
Four stage series PWM pulse charging and temperature compensation increases the useful life of the batteries.

Extensive Electronic Protections
The controller will not be damaged by wiring mistakes during installation. There are no fuses to replace, and the controller will automatically re-set after a wiring mistake.

Highly Reliable
Epoxy encapsulation protects the controller against dust and high humidity. Efficient electronics and a conservative thermal design allow the controller to operate reliably at high temperatures. Five year warranty and estimated 15 year life.
SunSaver Duo
RMSSSD
---
Angle Brackets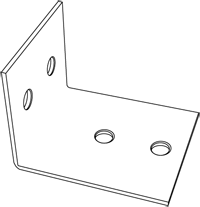 Angle Bracket
Alzone angle brackets are a convenient method of changing the direction of Alzone rail
on Alzone corrugated feet by 90 degrees. This allows modules to be in portrait position whilst racking is in landscape position.
The durable aluminium angle bracket is finished in the same anodized finish as Alzone feet and rail sections.
Angle Brackets
ASPMANGLE
---
Clamps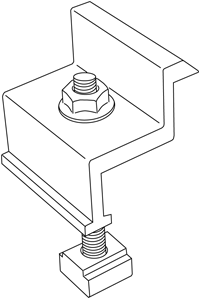 End Clamps
The Alzone end clamps are designed to securely mount solar modules at both ends of Alzone rail sections .There are a number of sizes available to suit most solar modules.
End clamps are pre drilled with grooves on the underside of clamps for advanced grip.
There is no drilling and clamps can be finger tightened on initial installation reducing risk to your valuable modules.
Clamps are manufactured from aluminium and come complete with a weather resistant anodized finish.
END CLAMPS
SPME1US-32MM
SPME1KY-36MM
SPME1SH-46MM
SPME1SW-36mm
SPMEBP-50MM
RAIL BOLTS
SPMBSH
SPMBUS
---

Mid Clamps
Alzone middle mounts are suitable for joining adjacent solar modules together on Alzone rail. Grooves on the underside of the clamps allow a secure grip to modules without the need to drill or damage panels. Clamps are constructed from aluminium which is finished in an anodized weather resistant coating. They provide a fast efficient manner of attachment to Alzone rail.
MID CLAMPS
SPM1
SPM2
RAIL BOLTS
SPMBSH
SPMBUS
Rail Bolts

Rail Bolts
Alzone rail bolts are a convenient way to attach middle and end clamps to Standard and Easy-Rail. The durable stainless steel rail bolts provide ease of installation of solar modules via the special aluminium rail shoe and serrated securing nut.
RAIL BOLTS
SPMBSH
SPMBUS