Solar Panels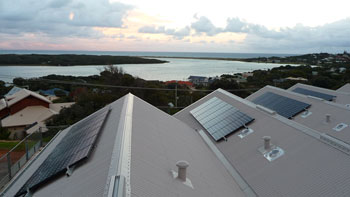 Solar panels are devices for capturing the energy in sunlight.
Solar photovoltaic panels contain arrays of solar cells that convert light into electricity.
They are called solar after the sun or "Sol" because the sun is the most powerful source of the light available for use.
The solar cells are sometimes called photovoltaic cells, photovoltaic meaning literally "light-electricity".
With over 25 years of experience in the industry, at The 12 Volt Shop we pride ourselves on our range of solar panels and the knowledge of our staff.
We are the Australian experts in solar equipment for mobile applications such as caravans or motor home's.
Come in and see us or call us about our solar panels!
Mono crystalline vs Polycrystalline Solar Panels:
Busting Myths
One of the most common comments that our specialist team hear from customers relates to the issue of mono crystalline vs polycrystalline (or 'multi crystalline') solar panels. Although mono crystalline panels had the initial advantage of being seen as the superior technology in the Australian market, as time goes on and both technologies improve, it becomes increasingly apparent that the the quality and reliability of the manufacturer is far more important than which of the two technologies is chosen.
Monocrystalline cells are made from a single crystal of ultra pure silicon. They are the original silicon solar cell and they are still the most efficient today. Mono cells are typically a little more expensive since they're a little more difficult to manufacture. The benefit of mono cells is that they perform slightly better under low light conditions equating to better production on cloudy days versus polycrystalline panels. How much better?. Suffice to say, you may get up to about 0.5% better production per annum using mono cells versus using polycrystalline.
Polycrystalline cells are made up of multiple crystals and are generally less expensive to manufacture than mono cells. The gap in performance has narrowed significantly over the years to the point where they are very close. Since Polycrystalline panels are made up of several crystals, this means that they also absorb less sunlight and produce slightly less than mono cells per metre squared.
Single crystal silicon is more efficient at converting photons to electrons for electricity, the poly-silicon its much less efficient because electrons are captured or generated less efficiently where the crystals of silicon touch. However, even though poly solar panels are not as efficient, they are cheaper to manufacture so they can still be competitive on a $/watt basis. They would just need more area to produce the same amount of electricity as the mono-crystalline panels.
Even though a mono crystalline panel has the potential to last up to 50 years, most warranties only go up to 25 years which polycrystalline panels are able to reach just fine.
Overall, the production process for mono crystalline silicon is mature, and the process for polycrystalline in still maturing. As purity and process tolerances for polycrystalline improves, the performance gaps between the two are narrowing.
Yingli Solar Panels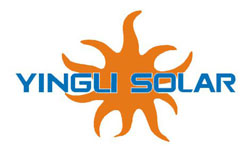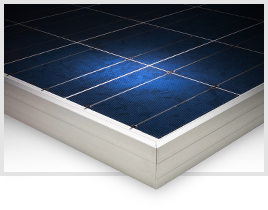 As one of the world's largest solar panel manufacturer, Yingli Solar is a leader in solar PV technology. With almost 10% global market share, more homes and businesses around the world are choosing Yingli Solar than any other PV brand.
Featuring world-class technology, high-quality workmanship and robust construction, our solar panels are designed to withstand harsh Australian conditions.
Ranked amongst the five best solar panels in world by PHOTON and TÜV Rheinland, solar panel reviews have rated Yingli Solar panels highly for our performance, quality and durability.
Yingli Green Energy is a leading solar energy company and one of the world's first fully vertically integrated photovoltaic manufacturers.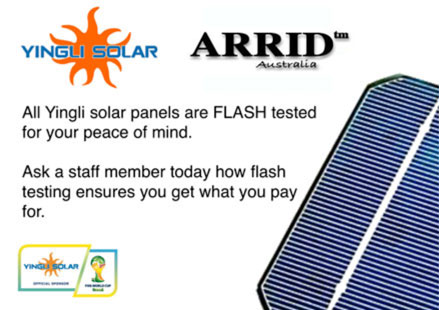 They develop, manufacture, and sell high-quality modules under the brand Yingli Solar to a wide range of markets, including Germany, Australia, Spain, Italy, Greece, France, South Korea, China, and the United States.
Yingli Solar have been the industry leaders for solar panel production for the last 3 years, with production increasing each year.
Over 19,000 employees worldwide
More than 30 branch offices and subsidiaries globally with local expertise
Publicly listed on the New York Stock Exchange since 2007 (NYSE: YGE)
Over 14 GW of Yingli Solar modules installed around the world
Recipient of numerous international awards and certificates including Social Accountability 8000 and ISO certifications
Consistent high quality resulting from their vertically-integrated production model
Up to 25 year limited peak power warranty and 5 year limited product warranty
Durable, corrosion-resistant aluminium frame tested for pressure loads of up to 5,400 Pa
Comprehensive product and facility certifications
CLICK HERE TO READ MORE ABOUT YINGLI SOLAR AND THE RIGOROUS TESTING THEIR PANELS GO THROUGH
Model No.

SPYL175

SPYL215

Application

Grid Connect / Caravan & Motorhome Battery Charging via MPPT Regulator

Rated Power (Watts)

Rated Voltage (Vmpp)

Rated Current (Impp)

Open Circuit Voltage (VOC)

Short Circuit Current (Isc)

No. of Cells

Dimensions MM (LxWxH)

Weight

Nominal Battery System Voltage

12V, 24V, 36V, 48V via MPPT Solar Charge Controller
SHARP Solar Panels *
*NOT SUPPLIED ANYMORE - LIMITED STOCK AVAILABLE
With over 40 years experience providing innovative technology, Sharp leads in solar power generation.
This single crystal 185watt module features 15.9% encapsulated cell efficiency and 14.1% module efficiency. Using breakthrough technology perfected in Sharp's space cell program, the NU-185A1H module allows for maximum usable power per square metre of solar array.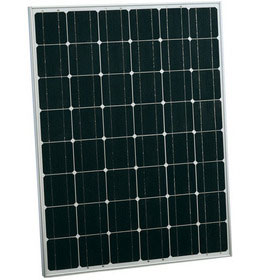 A safe, clean, reliable source of energy, Sharp's NU-185A1H photovoltaic module is designed for large electrical power requirements. Based on the technology of crystal silicon solar cells developed over 50 years, this module has superb durability to withstand rigorous operating conditions and is suitable for grid connected systems.
Common applications for the Sharp NU-185A1H include residences, office buildings, solar power stations and solar suburbs. As one of the world's leading manufacturer of photovoltaic modules, Sharp produces an extensive line of high power modules for every electrical power requirement.
Features
High-power module (185W) using 155.55mm square single crystal silicon solar cells with 14.1% module conversion efficiency
Photovoltaic module with bypass diode minimises the power drop caused by shade
Textured cell surface to reduce the reflection of sunlight and BSF (Black Surface Field) structure to improve cell conversion efficiency: 15.9%
White tempered glass, EVA resin and a weatherproof film, plus aluminium frame for extended outdoor use
Output terminal: Lead wire with waterproof connector
Certifications: IEC 61215 & IEC 61730
SHARP modules are manufactured in ISO 9001 certified factories
*NOT SUPPLIED ANYMORE - LIMITED STOCK AVAILABLE
Specifications

Cell Single-crystalline silicon solar cells: 155.55 mm square
No. of cells and connections: 48 in series
Application: Grid Connect / Only Off-Grid / Battery Charging when used with MPPT Regulator
Maximum system voltage: DC 1000V
Series fuse rating: 15A
Maximum power: 185.0w
Dimensions: 1318 x 994 x 46 mm
Weight: 16 Kg
Specifications

NU-185A1H
Cell
Multi-crystalline silicon solar, 155.5mm square
No. of Cells and Connections
48 in seriess
Open Circuit Voltage (Voc)
30.2V
Maximum Power Voltage (Vpm)
24V
Short Circuit Current (Isc)
8.54A
Maximum Power Current (Ipm)
7.71A
Maximum Power (Minimum Power) (Pm)
185W
Encapsulated Solar Cell Efficiency (nc)
15.9%
Module Efficiency (nm)
14.1%
Maximum System Voltage
DC 1000V
Series Fuse Rating
15A
Type of Output Terminal
Lead- MC3 Compatible
Dimensions (LxWxD)mm
1318X994X46
Weight
16.0kg
MC4 Connectors and Pre-Assembled Leads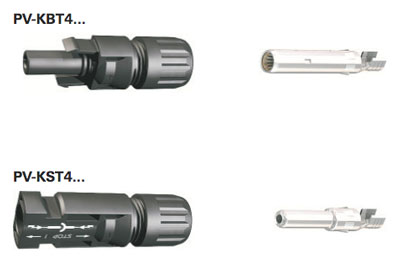 Second generation PV connector from Multi-Contact, which has rapidly become the most accepted connector in the world, designed to accept 4-6mm2 solar cable.
All Solar Panels are now generally coming with leads on the back with these types of Multi-Contact Connectors. Some smaller modules still have junction boxes, but any panel 80w and above will come with MC Connectors.
Features:
Snap-in locking
Locking by safety lock clip PV-SSH4 in accordance with NEC 2011, can be released only with tool
Proven MC-Multi lam technology with high long-term stability
Tried and tested plug connectors
Available for assembly with cross-sections of 10mm2
Also available as ready made leads
Leads made to customer's specifications
Our pre-assembled leads are made in house, from high quality Australian Made TUV PV1-F approved SOLX PV1-F Cable fitted with genuine Multi-Contact male and female connectors.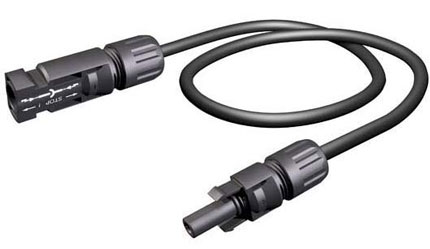 Connector System

Rated Voltage

1000V DC (IEC)

600V DC (UL)

Rated Current

30A (4mm2, 6mm2; 10AWG)

Test Voltage

Ambient Temperature Range

-40°C...+90°C (IEC)

-40°C...+75°C (UL)

-40°C...+70°C (UL: 14AWG)

Upper Limiting Temperature

Degree of Protection: Mated / Unmated

IP67 / IP2X

Over voltage Category / Pollution Degree

Contact Resistance of Plug Connectors

Safety Class

Contact System

MC Multi lam

Type of Termination

Contact Material

Insulation Material

Locking System

Flame Class

Cable strain relief according to
MC4 Connectors
SOCPV-KBT4/6II-MC4
SOCPV-KST4/6II-MC4
MC4 Pre-Assembled Leads
SOCMC4L1M
SOCMC4L2M
SOCMC4L3M
SOCMC4L4M
SOCMC4L5M
SOCMC4L6M
SOCMC4L8M
SOCMC4L10M