Solar Regulators
What are Solar Regulators / Solar Charge Controllers?
Solar electric power systems are essentially very simple. You have a device which converts sunlight into electrical energy (a photovoltaic panel or 'solar panel') and this is used to charge up a battery. The battery allows you to collect energy when the sun is shining and store it until needed.
This simple picture is complicated by the limitations of the battery. If you leave the photovoltaic panel connected to a battery, the battery will slowly charge up. If you are putting in more energy than you are taking out, then the battery will eventually become fully charged. If this continues, the battery will become overcharged and be damaged by corrosion of it's plates and loss of electrolyte. To avoid this, some sort of charge regulator / solar regulator is used to stop the charging when the battery is full.
Some charge controllers / solar regulators have additional features, such as a low voltage disconnect (LDV), a separate circuit which powers down the load when the batteries become overly discharged (some battery chemistries are such that over-discharge can ruin the battery).Some charge controllers may also monitor battery temperature to prevent overheating. Some charge controller systems also display data, transmit data to remote displays, and data logging to track electric flow over time.
Pulse width modulation (PWM) and maximum power point tracker (MPPT) technologies are more electronically sophisticated, adjusting charging rates depending on the battery's level, to allow charging closer to its maximum capacity.
Series Regulator vs MPPT
The MPPT versus series regulated question is not always straight forward as it very much depends on the conditions under which charging is taking place.
MPPT is good if you need to run cables from an array over a long distance as it allows higher voltage panel strings (therefore lower power loss due to cable resistance, because of lower currents).
Other than that, MPPT is useful if you don't want to (or can't) match the panel specifications to the battery (e.g. on a motorhome you may want to use some uncommon, high output panels since the roof space is limited).
Be aware that the % gains claimed for MPPT (other than the above couple of examples) are not likely to be 'real world' (e.g. How many hours during the day do your panels work at 25°C or less ?!). The hotter the panels become –the maximum power point voltage decreases and gets close to a typical battery voltage, therefore wiping out most (if not all) the gain an MPPT unit will give.
The other issues with MPPT (particularly for boats at sea) is that it's not always easy to bypass the regulator should a fault occur (e.g. due to lightning) since the panels and battery are not matched (e.g. high voltage panels and lower voltage battery). With a series regulated system (like the Plasmatronics regulators), the system can be kept running by connecting the panels directly to the battery and manually regulating.
ORORA Solar Regulators
ORORA RO10+, R020+ and R040+ Programmable Solar Regulators
Temperature compensated 3 stage (boost/
absorption/float) series regulation with Pulse Width Modulation (PWM)
Suitable for 12 or 24 V DC systems

Automatic 12/24 V detection

Optional remote display (ROM1) displays amp hours and battery voltage

Full solid state protection

Programmable for flooded or sealed batteries

Choose between 5 load disconnect settings

Optional external temperature sensor

Built-in 1 year data logger for system analysis

Programmable nightlight timer

Optional USB interface (ROI + ROCOM) for download of data to computer.

Prepared for DIN rail mounting (mounting device available as an accessory)

Negative ground regulator (earth negative terminal)
The ORORA RO10+, R020+ and R040+ regulators are ideal for many applications, including caravans, motor homes, village lighting systems, cabin systems, telecommunications, etc.
The ORORA RO+ series uses advanced Pulse Width Modulation to use energy from the photovoltaic modules in the most efficient manner. Although factory programmed for flooded batteries, the regulator can be adjusted for gel or AGM batteries.
The ORORA RO+ regulators have many advanced features not found in regulators in this price range, these include Excess Energy Management Mode, where excess energy, normally wasted, can be utilized to run equipment, two programmable nightlight timers and a 1 year memory that can be used to identify any system problems. The ORORA RO+ solar regulator offers 5 selectable modes for deep-discharge protection: voltage controlled (2 presets), SOC% controlled (2 presets), and Adaptive SOC% Controlled (Fuzzy Logic). Acoustic warning signals can be programmed to alert the user of system installation errors, significant state of charge changes, as well as low-voltage disconnect.
The ORORA RO+ solar controllers provide extraordinary display, programming and safety features. Battery State of Charge (SOC%) is clearly displayed using an LCD bar chart. The LCD screen also displays system status icons indicating events such as: low-voltage disconnect, over-current, over-voltage, short circuits and thermal overload. The ORORA RO+ can also be linked to the ORORA Remote Display (ROM) which can be linked to the regulator with a cable up to a distance of 2 m.

---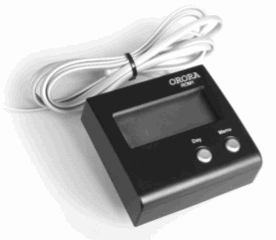 ORORA Remote Display ROM1
Clear, readable 3-digit LCD display for ORORA RO10+, R020+ and R040+ with system status symbols
Display panel current, load current, battery voltage, amp hour capacity, and battery state of charge
Prepared for DIN Rail or screw mounting
The ORORA Remote Display (ROM1) has been designed to function as a remote meter for the ORORA RO series charge controllers. The remote display can be used up to a distance of 6 m from the regulator via the interface connector. This is ideal for small systems where the solar regulator can be located in close proximity to the batteries and the remote meter can be conveniently placed so that battery condition can be monitored from the living area using the push button display.
The ORORA Remote Display is designed to display real-time panel input current, load output current, battery voltage/state of charge (%) as well as cumulative PV and load AH for the day. In addition, the ORORA Remote Display supplies system status icons to indicate when PV is charging, system overload, and low-voltage disconnect. Through the ORORA Remote Display historical data collected by the ORORA RO controller can also be accessed, including: Daily PV input, Load AH and Battery SOC%/Voltage in the morning of evening for each day.
Plasmatronics Solar Regulators
PL20/40/60
The Plasmatronics PL series of charge controllers are the industry standard, field proven way to take control of your battery based renewable energy system. With tens of thousands of units in service, in a huge variety of
applications, the Plasmatronics PL series has a well-earned reputation for versatility and reliability.
The four stage charging algorithm incorporating true Pulse Width Modulated (PWM) constant voltage control gives you complete control over the whole charging cycle. All charging voltages and times are adjustable over generously wide ranges. This allows you to customise the charging regime to suit just about any custom requirements which you, your customer, or your battery manufacturer may have. Of course, in most cases you can choose from one of our four default programs, which cover most types of batteries and systems extremely well.
Plasmatronics PL series controllers have plenty of other tricks up their sleeves as well. They can control generators, night lights, back-up battery charging, many timer applications, and heaps more.
Features

Adjustable: All settings are adjustable, and are stored in non volatile memory so you don't lose your custom set up if the unit needs to be disconnected from the battery.
Display: User friendly LCD display. Each number has a label.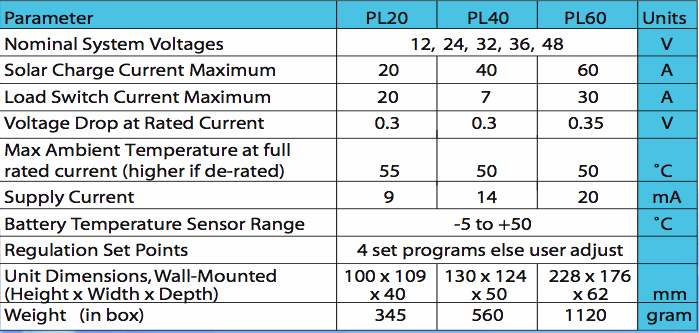 Energy metering: Daily Load and Charge Ah plus State of Charge, all recorded for 30 days.
Four Stage Regulation: Boost, Absorption, Float, and Equalisation available as appropriate for the battery type.
History: Records Charge and Load Ah, Max and Min battery voltages, SOC, and Float times for the last 30 days. You can tell how much energy was really collected and used. This history can be very useful when diagnosing a system problem.
Generator Control: A sophisticated generator controller is included, with four different modes
of control, and a quiet time option.
Event Control: A powerful event controller/timer allows the Load and/or General Purpose terminal to turn on or off a wide range of loads (eg pumps, lights, motors etc.), under a user specified set of conditions.
Alarm: There is an adjustable high or low battery voltage alarm output, which can drive an external alarm device.
Second Battery: When the main battery is full, the PL can supply a signal to switch a relay, so that some or all of the array can charge a second battery. The second battery charging is also controlled.
Remote control: The PLM remote display allows all functions to be accessed from up to 100 metres away. Fits in a standard light switch mounting plate.
Data Comms: Communication with a computer is possible via the optional PLI interface. This allows fast downloading of all data and adjustment of settings. Can be used via a modem for remote sites etc.
Protection: Protected against short circuits, reverse flow, and lightning. Low battery load disconnect function built in. Current limiting in the event of over temperature or over current. Full conformal coating protects against corrosion.
External Shunts: Up to two external shunts can be added using optional DC isolated PLS2 shunt adaptors. Inverter and/or battery charger current and other external currents can be included in the Ah readings and SOC.
Pl Regulators
RPL20
RPL40
RPL60
---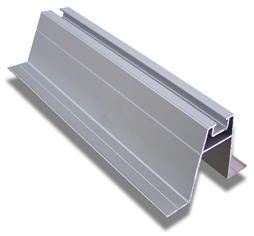 Easy-Rail
Easy-Rail is an economical aluminium solar rail section for mounting solar modules to flat, corrugated or tiled roofs.
There is no need for fitment of additional feet as this is already incorporated in the rail base. Top slots for the rail bolts and a groove in the foot section to align fastening screws make it easier to install.
Longitudinal slots on top edge provide added grip for securing end clamps.
Convenient lengths are available and these come coated in a durable anodized finish.
Easy-Rail
ASPMRA2840 Solar Easy-Rail
ASPMRA3150 SOLAR EASY-RAIL
ASPMRA3500 SOLAR EASY-RAIL
Morningstar Solar Regulators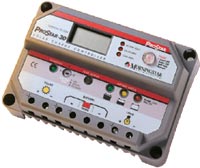 ProStar
Morningstar's ProStar is the world's leading mid-range solar controller for both professional and consumer applications. This second generation ProStar:
• Adds new features and protections using highly advanced technology
• Provides longer battery life and improved system performance
• Sets new standards for reliability and self-diagostics
Standard Features:
• Versions available: 15 or 30 amp 12 / 24 or 48 volt negative or positive ground
• Estimated 15 year life
• PWM series battery charging (not shunt)
• 3-position battery select: gel, sealed or flooded
• Very accurate control and measurement
• Jumper to eliminate telecom noise
• Parallel for up to 300 amps
• Temperature compensation

Tropicalization: conformal coating, stainless- steel fasteners & anodized aluminum heat sink
• No switching or measurement in the grounded leg
• 100% solid state
• Very low voltage drops
• Current compensated low voltage disconnect (LVD)
• LED's indicate battery status and faults
• Capable of 25% overloads
• Remote battery voltage sense terminals
Electronic Protections:
• Short-circuit — solar and load
• Overload — solar and load
• Reverse polarity
• Reverse current at night
• High voltage disconnect
• High temperature disconnect
• Lightning and transient surge protection
• Loads protected from voltage spikes
• Automatic recovery with all protections
ProStar
RMSPS15
RMSPS15M
RMSPS30M
RMSPS30
---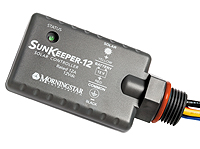 SunKeeper
Morningstar 's SunKeeper solar controller provides a low cost regulated output directly from the solar module to maximize battery life in small solar power applications. The SunKeeper is epoxy encapsulated and rated for outdoor use. By mounting directly to the module junction box and wiring through the junction box knockout, the connection is weather-proof. This eliminates the need for an additional housing for the controller.
The SunKeeper is available in a 6 amp or 12 amp version (both at 12 volts DC). To withstand the high temperatures at the solar module, the controller has been designed using extremely efficient power electronics and is rated to 70°C. The SunKeeper is also certified for use in Class 1, Division 2 hazardous locations, making it an ideal controller for solar powered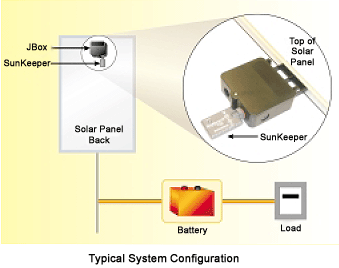 oil/gas applications.
SunKeeper
RMSSK6
RMSSK12
---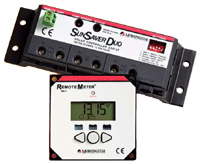 SunSaver Duo

Two Battery Solar Controller with remote meter
Morningstar's SunSaver Duo is an advanced PWM two battery controller for RV's, caravans, boats and cottages.
This product will charge two separate and isolated batteries at the same time, such as a "house" and an engine battery, based on user selectable priorities.
The SunSaver Duo employs Morningstar's legendary SunSaver controller technology, whose long-term track record for high reliability and improved battery charging is well-recognized in the solar industry. This controller also includes a backlit remote meter which may be mounted in or on a wall, and displays digital and pictorial status
information about the solar power system.
The SunSaver Duo is epoxy encapsulated for environmental protection, is user adjustable via DIP switch or connection to a personal computer, and has an optional remote temperature sensor.

Two Battery Charging
Solar charge current is shared between the two batteries based on a user selectable priority. When one battery is fully charged, all of the charge current flows to the other battery.

Provides Useful information
The remote meter and LED's display system status data and any system errors. Custom icons and back lighting make the meter easy to read and understand.

Lower Cost
Two battery charging eliminates the added cost of two separate solar charging systems and the need for isolation between the batteries.

Easy to Install
The controller is installed near the batteries using the clearly labeled large wire terminals. The remote meter may be mounted in the wall or on the wall using the included frame. Also includes the meter wiring with RJ-11 connector.

Longer Battery lLife
Four stage series PWM pulse charging and temperature compensation increases the useful life of the batteries.

Extensive Electronic Protections
The controller will not be damaged by wiring mistakes during installation. There are no fuses to replace, and the controller will automatically re-set after a wiring mistake.

Highly Reliable
Epoxy encapsulation protects the controller against dust and high humidity. Efficient electronics and a conservative thermal design allow the controller to operate reliably at high temperatures. Five year warranty and estimated 15 year life.
SunSaver Duo
RMSSSD
---
Angle Brackets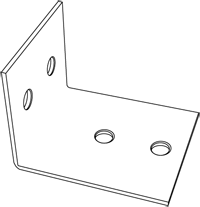 Angle Bracket
Alzone angle brackets are a convenient method of changing the direction of Alzone rail
on Alzone corrugated feet by 90 degrees. This allows modules to be in portrait position whilst racking is in landscape position.
The durable aluminium angle bracket is finished in the same anodized finish as Alzone feet and rail sections.
Angle Brackets
ASPMANGLE
---
Clamps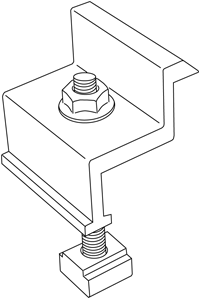 End Clamps
The Alzone end clamps are designed to securely mount solar modules at both ends of Alzone rail sections .There are a number of sizes available to suit most solar modules.
End clamps are pre drilled with grooves on the underside of clamps for advanced grip.
There is no drilling and clamps can be finger tightened on initial installation reducing risk to your valuable modules.
Clamps are manufactured from aluminium and come complete with a weather resistant anodized finish.
END CLAMPS
SPME1US-32MM
SPME1KY-36MM
SPME1SH-46MM
SPME1SW-36mm
SPMEBP-50MM
RAIL BOLTS
SPMBSH
SPMBUS
---

Mid Clamps
Alzone middle mounts are suitable for joining adjacent solar modules together on Alzone rail. Grooves on the underside of the clamps allow a secure grip to modules without the need to drill or damage panels. Clamps are constructed from aluminium which is finished in an anodized weather resistant coating. They provide a fast efficient manner of attachment to Alzone rail.
MID CLAMPS
SPM1
SPM2
RAIL BOLTS
SPMBSH
SPMBUS
Rail Bolts

Rail Bolts
Alzone rail bolts are a convenient way to attach middle and end clamps to Standard and Easy-Rail. The durable stainless steel rail bolts provide ease of installation of solar modules via the special aluminium rail shoe and serrated securing nut.
RAIL BOLTS
SPMBSH
SPMBUS