Security Cables
ACA N1155 (AUSTEL APPROVED)
Multi-Core
PVC Insulation and Sheath 75°C ACA N1155 (Austel Approved)
APPLICATIONS: Security systems, control and communications equipment.
CONDUCTOR: Plain copper wire.
INSULATION: 75°C PVC to AS 3808
CORE COLOUR: See next page.
SHEATH: 75°C PVC to AS 3808 and S008
SHEATH COLOUR: Grey, white, brown or cream.
PACK: 100, 250, 500 metres, bulk drum.

NOTE: (i) Extra Low Voltage
(ii) Not Suitable For Connection To Mains Power Supply.
| | | | |
| --- | --- | --- | --- |
| SMC12702-SY-100 | 12x7/.2 Security :GREY | | Call Us! |
| SMC6702-SY-100 | 6 X 7/.2 SECURITY GREY UNSHIELDED DORMA PRODUCT..... | | Call Us! |
| SMC81402-SY-100 | 8x14/.2 Security :GREY | | Call Us! |
| SMC81402-SY-250 | 8x14/.2 Security :GREY | | Call Us! |
| SMC81402-SY-500 | 8x14/.2 Security :GREY | | Call Us! |
| SMC81402-WH-100 | 8x14/.2 Security :WHITE | | Call Us! |
| SMC81402-WH-250 | 8x14/.2 Security :WHITE | | Call Us! |
| SMC81402-WH-500 | 8x14/.2 Security :WHITE | | Call Us! |
| SMC8702-SY-100 | 8x7/.2 Security :GREY | | Call Us! |
| SMC8702-WH-100 | 8x7/.2 Security :WHITE | | Call Us! |
| SMC8702-WH-500 | 8x7/.2 Security :WHITE | | Call Us! |
| SEC4142-NN-100 | 4x14/.2 RACOL SECUR :BROWN | | Call Us! |
| SEC4142-NN-250 | 4x14/.2 RACOL SECUR :BROWN | | Call Us! |
| SEC4142-NN-300(B) | 4x14/.2 RACOL SECUR :BROWN | | Call Us! |
| SEC4142-SY-100 | 4x14/.2 RACOL SECUR :GREY | | Call Us! |
| SEC4142-SY-300(B) | 4x14/.2 RACOL SECUR :GREY | | Call Us! |
| SEC4142-SY-500 | 4x14/.2 RACOL SECUR :GREY | | Call Us! |
| SEC4142-WH-100 | 4x14/.2 RACOL SECUR :WHITE | | Call Us! |
| SEC4142-WH-250 | 4x14/.2 RACOL SECUR :WHITE | | Call Us! |
| SEC4142-WH-300(B) | 4x14/.2 RACOL SECUR :WHITE | | Call Us! |
| SEC4142-WH-500 | 4x14/.2 RACOL SECUR :WHITE | | Call Us! |
| SEC4142-YW-300(B) | 4x14/.2 RACOL SECUR :YELLOW | | Call Us! |
| SEC472-NN-100 | 4x7/.2 RACOL SECURIC:BROWN | | Call Us! |
| SEC472-NN-300(B) | 4x7/.2 RACOL SECURIC:BROWN | | Call Us! |
| SEC472-SY-100 | 4x7/.2 RACOL SECURIC:GREY | | Call Us! |
| SEC472-SY-300(B) | 4x7/.2 RACOL SECURIC:GREY | | Call Us! |
| SEC472-WH-100 | 4x7/.2 RACOL SECURIC:WHITE | | Call Us! |
| SEC472-WH-300 | 4x7/.2 RACOL SECURIC:WHITE | | Call Us! |
| SEC472-WH-300(B) | 4x7/.2 RACOL SECURIC:WHITE | | Call Us! |
| SEC472-WH-500 | 4x7/.2 RACOL SECURIC:WHITE | | Call Us! |
| SEC6142-NN-100 | 6x14/.2 RACOL SECURI:BROWN | | Call Us! |
| SEC6142-NN-300(B) | 6x14/.2 RACOL SECURI:BROWN | | Call Us! |
| SEC6142-SY-100 | 6x14/.2 RACOL SECURI:GREY | | Call Us! |
| SEC6142-SY-250 | 6x14/.2 RACOL SECURI:GREY | | Call Us! |
| SEC6142-SY-300(B) | 6x14/.2 RACOL SECURI:GREY | | Call Us! |
| SEC6142-WH-100 | 6x14/.2 RACOL SECURI:WHITE | | Call Us! |
| SEC6142-WH-250 | 6x14/.2 RACOL SECURI:WHITE | | Call Us! |
| SEC6142-WH-300(B) | 6x14/.2 RACOL SECURI:WHITE | | Call Us! |
| SEC6142-WH-500 | 6x14/.2 RACOL SECURI:WHITE | | Call Us! |
| SEC672-NN-100 | 6x7/.2 RACOL SECURIC:BROWN | | Call Us! |
| SEC672-NN-300(B) | 6x7/.2 RACOL SECURIC:BROWN | | Call Us! |
| SEC672-SY-100 | 6x7/.2 RACOL SECURIC:GREY | | Call Us! |
| SEC672-SY-300(B) | 6x7/.2 RACOL SECURIC:GREY | | Call Us! |
| SEC672-SY-500 | 6x7/.2 RACOL SECURIC:GREY | | Call Us! |
| SEC672-WH-100 | 6x7/.2 RACOL SECURIC:WHITE | | Call Us! |
| SEC672-WH-300 | 6x7/.2 RACOL SECURIC:WHITE | | Call Us! |
| SEC672-WH-300(B) | 6x7/.2 RACOL SECURIC:WHITE | | Call Us! |
| SEC672-WH-500 | 6x7/.2 RACOL SECURIC:WHITE | | Call Us! |
Security Cables
ACA N1155 (AUSTEL APPROVED)
Multi-Core
PVC Insulation and sheath 75°C
AUSTEL APPROVALS: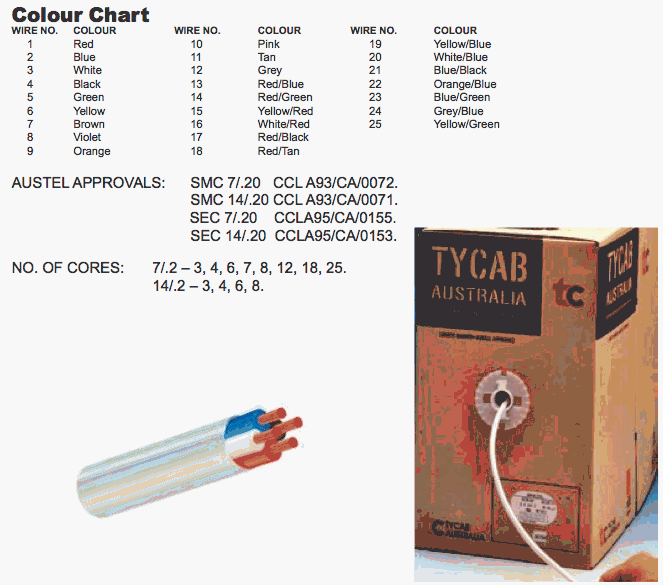 Security Cables
ACA N1155 (Austel Approved) FIGURE 8
Figure 8 (Parallel Webbed) 75°C
PVC Insulated
APPLICATIONS: Interconnection of security and allied equipment.
CONDUCTOR: Plain copper wire.
INSULATION: 75°C PVC to AS 3808
COLOUR: Striped combinations as requested.
PACK: 100, 250, 500 metres.
AUSTEL APPROVALS: A93/CA/0100 (LFC 22402).
A93/CA/0099 (LFC 22402).
A93/CA/0098 (FFC 22402).

NOTE: (i)* 240v Insulation Thickness.
(ii) LFC Cables Not Suitable For Connection To Mains Power Supply.

| | | | |
| --- | --- | --- | --- |
| LFC21402-BK-100 | 14/.2 F8 Speaker :BLACK | | Call Us! |
| LFC21402-BK-1000 | 14/.2 F8 Speaker :BLACK | | Call Us! |
| LFC21402-BKRD-100 | 14/.2 F8 Speaker :BLACK/RED | | Call Us! |
| LFC21402-BKRD-1000 | 14/.2 F8 Speaker :BLACK/RED | | Call Us! |
| LFC21402-BKWH-100 | 14/.2 F8 Speaker :BLACK/WHITE | | Call Us! |
| LFC21402-RDBK-100 | 14/.2 F8 Speaker :RED/BLACK | | Call Us! |
| LFC21402-RDBK-30 | 14/.2 F8 Speaker :RED/BLACK | | Call Us! |
| LFC21402-RDBK-500 | 14/.2 F8 Speaker :RED/BLACK | | Call Us! |
| LFC21402-SY-100 | 14/.2 F8 Speaker :GREY | | Call Us! |
| LFC21402-SYBK-100 | 14/.2 F8 Speaker :GREY/BLACK | | Call Us! |
| LFC21402-SYBK-1000 | 14/.2 F8 Speaker :GREY/BLACK | | Call Us! |
| LFC21402-SYBK-30 | 14/.2 F8 Speaker :GREY/BLACK | | Call Us! |
| LFC21402-SYBK-500 | 14/.2 F8 Speaker :GREY/BLACK | | Call Us! |
| LFC21402-SYBK-5000 | 14/.2 F8 Speaker :GREY/BLACK | | Call Us! |
| LFC21402-SYWH-100 | 14/.2 F8 Speaker :GREY/WHITE | | Call Us! |
| LFC21402-WH-100 | 14/.2 F8 Speaker :WHITE | | Call Us! |
| LFC21402-WHSY-100 | 14/.2 F8 Speaker :WHITE/GREY | | Call Us! |
| LFC22402-BK-100 | 24/.2 F8 Speaker :BLACK | | Call Us! |
| LFC22402-BKRD-100 | 24/.2 F8 Speaker :BLACK/RED | | Call Us! |
| LFC22402-BKRD-1000 | 24/.2 F8 Speaker :BLACK/RED | | Call Us! |
| LFC22402-BKRD-500 | 24/.2 F8 Speaker :BLACK/RED | | Call Us! |
| LFC22402-BKWH-100 | 24/.2 F8 Speaker :BLACK/WHITE | | Call Us! |
| LFC22402-RDWH-100 | 24/.2 F8 Speaker :RED/WHITE | | Call Us! |
| LFC22402-SY-100 | 24/.2 F8 Speaker :GREY | | Call Us! |
| LFC22402-SYBK-100 | 24/.2 F8 Speaker :GREY/BLACK | | Call Us! |
| LFC22402-SYBK-250 | 24/.2 F8 Speaker :GREY/BLACK | | Call Us! |
| LFC22402-SYBK-50 | 24/.2 F8 Speaker :GREY/BLACK | | Call Us! |
| LFC22402-SYBK-500 | 24/.2 F8 Speaker :GREY/BLACK | | Call Us! |
| LFC22402-SYGN-100 | 24/.2 F8 Speaker :GREY/GREEN | | Call Us! |
| LFC22402-SYGN-500 | 24/.2 F8 Speaker :GREY/GREEN | | Call Us! |
| LFC22402-SYLB-100 | 24/.2 F8 Speaker :GREY/BLUE | | Call Us! |
| LFC22402-SYWH-100 | 24/.2 F8 Speaker :GREY/WHITE | | Call Us! |
| LFC22402-SYWH-500 | 24/.2 F8 Speaker :GREY/WHITE | | Call Us! |
| LFC22402-SYYW-100 | 24/.2 F8 Speaker :GREY/YELLOW | | Call Us! |
| LFC22402-WH-100 | 24/.2 F8 Speaker :WHITE | | Call Us! |
| LFC22402-WH-500 | 24/.2 F8 Speaker :WHITE | | Call Us! |
| LFC22402-WHYW-100 | 24/.2 F8 Speaker :WHITE/YELLOW | | Call Us! |
| LFC26502-BK-100 | 65/.2 F8 NO STRIPES :BLACK | | Call Us! |
| LFC26502-BK-500 | 65/.2 F8 NO STRIPES :BLACK | | Call Us! |
| LFC26502-BKWH-100 | 65/.2 F8 NO STRIPES :BLACK/WHITE | | Call Us! |
| LFC26502-CM-100 | 65/.2 F8 NO STRIPES :CREAM | | Call Us! |
| LFC26502-SY-100 | 65/.2 F8 NO STRIPES :GREY | | Call Us! |
| LFC28402-BK-100 | 84/.2 Fig 8 Speaker :BLACK | | Call Us! |
| LFC28402-BK-V | 84/.2 Fig 8 Speaker :BLACK | | Call Us! |
| LFC28402-BKWH-100 | 84/.2 Fig 8 Speaker :BLACK/WHITE | | Call Us! |
| LFC28402-BKWH-250 | 84/.2 Fig 8 Speaker :BLACK/WHITE | | Call Us! |
| LFCC | | | Call Us! |
| LFCC1 | | | Call Us! |
| LFCG | | | Call Us! |
| LFCG1 | | | Call Us! |
| LFCS | | | Call Us! |
| LFCSSG | | | Call Us! |
| LFCW1 | | | Call Us! |
| FFC21602-BK-100 | 16/.2 240V FIG 8 :BLACK | | Call Us! |
| FFC21602-BK-500 | 16/.2 240V FIG 8 :BLACK | | Call Us! |
| FFC21602-BKWH-100 | 16/.2 240V FIG 8 :BLACK/WHITE | | Call Us! |
| FFC21602-WH-100 | 16/.2 240V FIG 8 :WHITE | | Call Us! |
| FFC22402-BK-100 | 24/.2 240V FIG 8 :BLACK | | Call Us! |
| FFC22402-BK-500 | 24/.2 240V FIG 8 :BLACK | | Call Us! |
| FFC22402-BKRD-100 | 24/.2 240V FIG 8 :BLACK/RED | | Call Us! |
| FFC22402-BKWH-100 | 24/.2 240V FIG 8 :BLACK/WHITE | | Call Us! |
| FFC22402-BKWH-250 | 24/.2 240V FIG 8 :BLACK/WHITE | | Call Us! |
| FFC22402-BKWH-500 | 24/.2 240V FIG 8 :BLACK/WHITE | | Call Us! |
| FFC22402-GNBK-100 | 24/.2 240V FIG 8 :GREEN/BLACK | | Call Us! |
| FFC22402-LBBK-100 | 24/.2 240V FIG 8 :BLUE/BLACK | | Call Us! |
| FFC22402-LBBK-500 | 24/.2 240V FIG 8 :BLUE/BLACK | | Call Us! |
| FFC22402-LBWH-100 | 24/.2 240V FIG 8 :BLUE/WHITE | | Call Us! |
| FFC22402-LBWH-250 | 24/.2 240V FIG 8 :BLUE/WHITE | | Call Us! |
| FFC22402-LBWH-3000 | 24/.2 240V FIG 8 :BLUE/WHITE | | Call Us! |
| FFC22402-LBWH-500 | 24/.2 240V FIG 8 :BLUE/WHITE | | Call Us! |
| FFC22402-NNBK-100 | 24/.2 240V FIG 8 :BROWN/BLACK | | Call Us! |
| FFC22402-NNBK-500 | 24/.2 240V FIG 8 :BROWN/BLACK | | Call Us! |
| FFC22402-NNLB-100 | 24/.2 240V FIG 8 :BROWN/BLUE | | Call Us! |
| FFC22402-NNWH-100 | 24/.2 240V FIG 8 :BROWN/WHITE | | Call Us! |
| FFC22402-NNWH-250 | 24/.2 240V FIG 8 :BROWN/WHITE | | Call Us! |
| FFC22402-NNWH-500 | 24/.2 240V FIG 8 :BROWN/WHITE | | Call Us! |
| FFC22402-RDBK-100 | 24/.2 240V FIG 8 :RED/BLACK | | Call Us! |
| FFC22402-RDBK-250 | 24/.2 240V FIG 8 :RED/BLACK | | Call Us! |
| FFC22402-RDBK-500 | 24/.2 240V FIG 8 :RED/BLACK | | Call Us! |
| FFC22402-RDWH-100 | 24/.2 240V FIG 8 :RED/WHITE | | Call Us! |
| FFC22402-RDWH-3000 | 24/.2 240V FIG 8 :RED/WHITE | | Call Us! |
| FFC22402-RDWH-500 | 24/.2 240V FIG 8 :RED/WHITE | | Call Us! |
| FFC22402-SY-100 | 24/.2 240V FIG 8 :GREY | | Call Us! |
| FFC22402-SYBK-100 | 24/.2 240V FIG 8 :GREY/BLACK | | Call Us! |
| FFC22402-SYBK-250 | 24/.2 240V FIG 8 :GREY/BLACK | | Call Us! |
| FFC22402-SYBK-500 | 24/.2 240V FIG 8 :GREY/BLACK | | Call Us! |
| FFC22402-SYLB-100 | 24/.2 240V FIG 8 :GREY/BLUE | | Call Us! |
| FFC22402-SYLB-500 | 24/.2 240V FIG 8 :GREY/BLUE | | Call Us! |
| FFC22402-SYWH-100 | 24/.2 240V FIG 8 :GREY/WHITE | | Call Us! |
| FFC22402-SYWH-250 | 24/.2 240V FIG 8 :GREY/WHITE | | Call Us! |
| FFC22402-SYWH-500 | 24/.2 240V FIG 8 :GREY/WHITE | | Call Us! |
| FFC22402-VLBK-100 | 24/.2 240V FIG 8 :VIOLET/BLACK | | Call Us! |
| FFC22402-WH-10 | 24/.2 240V FIG 8 :WHITE | | Call Us! |
| FFC22402-WH-100 | 24/.2 240V FIG 8 :WHITE | | Call Us! |
| FFC22402-WH-30 | 24/.2 240V FIG 8 :WHITE | | Call Us! |
| FFC22402-WH-500 | 24/.2 240V FIG 8 :WHITE | | Call Us! |
| FFC22402-WHBK-100 | 24/.2 240V FIG 8 :WHITE/BLACK | | Call Us! |
| FFC22402-WHBK-250 | 24/.2 240V FIG 8 :WHITE/BLACK | | Call Us! |
| FFC22402-WHBK-500 | 24/.2 240V FIG 8 :WHITE/BLACK | | Call Us! |
| FFC22402-WHLB-100 | 24/.2 240V FIG 8 :WHITE/BLUE | | Call Us! |
| FFC22402-WHRD-100 | 24/.2 240V FIG 8 :WHITE/RED | | Call Us! |
| FFC22402-WHRD-500 | 24/.2 240V FIG 8 :WHITE/RED | | Call Us! |

Security Cables
OVERALL SCREEN ACA N1155 (AUSTEL APPROVED)

Multi Wire, Overall Screen
APPLICATIONS: Security control with signal integrity.
CONDUCTOR: Plain copper wire.
INSULATION: 75°C PVC to AS 3808 and S008.
CORE COLOUR: 4 Core – Red, blue, green, yellow.
6 Core – 4 core plus white, black.
7 Core – 4 core plus white, black, brown.
SCREEN: Overall aluminium/polyester laminate tape screen with a 7/0.20 tinned
copper drain wire.
SHEATH: 75°C PVC to AS 3808.
PACK: 100 or 500 metres.
ACA N1155 (AUSTEL APPROVAL: A93/CA/0123).

NOTE: (i) Not Suitable For Connection To Mains Power Supply.

| | | | |
| --- | --- | --- | --- |
| DMC12702-SY-100 | 12x7/.2 SCREENED :GREY | | Call Us! |
| DMC25702-SY-100 | 25x7/.2 SCREENED :GREY | | Call Us! |
| DMC25702-SY-500 | 25x7/.2 SCREENED :GREY | | Call Us! |
| DMC3BAA-NN-500 | 3X7/.25 SCREEN SPEC :BROWN | | Call Us! |
| DMC3BAA-VL-500 | 3X7/.25 SCREEN SPEC :VIOLET | | Call Us! |
| DMC41402-SY-100 | 4x14/.2 SCREENED :GREY | | Call Us! |
| DMC41402-SY-250 | 4x14/.2 SCREENED :GREY | | Call Us! |
| DMC41402-SY-500 | 4x14/.2 SCREENED :GREY | | Call Us! |
| DMC4702-SY-100 | 4x7/.2 SCREENED :GREY | | Call Us! |
| DMC4702-SY-250 | 4x7/.2 SCREENED :GREY | | Call Us! |
| DMC4702-SY-500 | 4x7/.2 SCREENED :GREY | | Call Us! |
| DMC5702-SY-100 | 5x7/.2 SCREENED DATA:GREY | | Call Us! |
| DMC6702-SY-100 | 6x7/.2 SCREENED :GREY | | Call Us! |
| DMC6702-SY-250 | 6x7/.2 SCREENED :GREY | | Call Us! |
| DMC6702-SY-300(B) | 6x7/.2 SCREENED :GREY | | Call Us! |
| DMC6702-SY-500 | 6x7/.2 SCREENED :GREY | | Call Us! |
| DMC71402-SY-100 | 7x14/.2 SCREENED DAT:GREY | | Call Us! |
| DMC71402-SY-250 | 7x14/.2 SCREENED DAT:GREY | | Call Us! |
| DMC71402-SY-500 | 7x14/.2 SCREENED DAT:GREY | | Call Us! |
| DMC8702-SY-100 | 8x7/.2 SCREENED DATA:GREY | | Call Us! |
| DMC8702-SY-500 | 8x7/.2 SCREENED DATA:GREY | | Call Us! |

Security Cables
ACA N1155 (Austel Approved)
INDIVIDUAL SCREEN 22 AWG

Multi-Pair, Individual Screen (8723 equiv)
APPLICATIONS: Security control with signal integrity.
CONDUCTOR: Tinned copper wire.
INSULATION: Data grade polypropylene 75°C
CORE COLOUR: Pair 1 black & red.
Pair 2 green & white.
SCREEN: Individual aluminium polyester laminate tape screens with a 7/0.20mm
tinned copper drain wire.
SHEATH: 75°C PVC to AS 3808
PACK: 100, 250 or 500 metres.
ACA N1155 (AUSTEL APPROVAL: A93/CA/0110.)

NOTE: (i) Not Suitable For Connection To Mains Power Supply.

| | | | |
| --- | --- | --- | --- |
| DQQ4/7067-BK-100 | 2PR 7/.25SCR + 7/.67:BLACK | | Call Us! |
| DQQ4/7067-BK-250 | 2PR 7/.25SCR + 7/.67:BLACK | | Call Us! |
| DQQ4/7067-BK-500 | 2PR 7/.25SCR + 7/.67:BLACK | | Call Us! |
| DQQ47025-BK-100 | 2PR 7/.25PLP IND SCR:BLACK | | Call Us! |
| DQQ47025-SY-100 | 2PR 7/.25PLP IND SCR:GREY | | Call Us! |
| DQQ47025-SY-250 | 2PR 7/.25PLP IND SCR:GREY | | Call Us! |
| DQQ47025-SY-300(B) | 2PR 7/.25PLP IND SCR:GREY | | Call Us! |
| DQQ47025-SY-500 | 2PR 7/.25PLP IND SCR:GREY | | Call Us! |

Telephone Cables
ACA N1155 ( AUSTEL APPROVED)
Indoor Multi-Pair
75°C PVC Ins & Sheath
APPLICATIONS: Internal telephone cable.
CONDUCTOR: Plain copper wire
INSULATION: 75°C PVC to S008
CORE COLOUR: 1 QUAD:- Blue, white, red, black
3 PAIR:- White & blue, red & black, orange & green.
SHEATH: 75°C PVC to S008
SHEATH COLOUR: Cream.
PACK: 100, 250 or 500 metres, bulk drum.
AUSTEL APPROVALS: CCL A93/CA/0055 (Quad).
CCL A93/CA/0057 (4&5 Pair).
CCL A93/CA/0059 (3 Pair).

NOTE: (i) Extra Low Voltage
(ii) Not Suitable For Connection To Mains Power Supply.

| | | | |
| --- | --- | --- | --- |
| TIC4105-CM-100 | 4x1/.5 Telephone :CREAM | | Call Us! |
| TIC4105-CM-300(B) | 4x1/.5 Telephone :CREAM | | Call Us! |
| TIC4105-WH-100 | 4x1/.5 Telephone :WHITE | | Call Us! |
| TIC4105-WH-300(B) | 4x1/.5 Telephone :WHITE | | Call Us! |
| TIC6105-CM-100 | 3 PR 1/.5 TELEPHONE :CREAM | | Call Us! |
| TIC6105-CM-300(B) | 3 PR 1/.5 TELEPHONE :CREAM | | Call Us! |

Telephone Cables
ACA N1155
TWIN TWIST
Twin Twist (Rack Wire)
75°C PVC Insulated (AUSTEL APPROVAL CCL A96/CA/0067)
APPLICATIONS: Telephone rack wiring.
CONDUCTOR: Plain copper wire.
INSULATION: 75°C PVC to AS 3808 and S008.
CORE COLOUR: 2 CORE – Red & white.
4 CORE – Red, white, blue, black.
PACK: 300, 250 or 500 metres.

NOTE: (i) Extra Low Voltage
(ii) Not Suitable For Connection To Mains Power Supply.

| | | | |
| --- | --- | --- | --- |
| TXC2105-WHRD-100 | 2x1/.5 TWISTED TELEP:WHITE/RED | | Call Us! |
| TXC2105-WHRD-250 | 2x1/.5 TWISTED TELEP:WHITE/RED | | Call Us! |
| TXC2105-WHRD-500 | 2x1/.5 TWISTED TELEP:WHITE/RED | | Call Us! |