Solara Semi-Flexible Solar Panels
Solar modules of SOLARA M- Series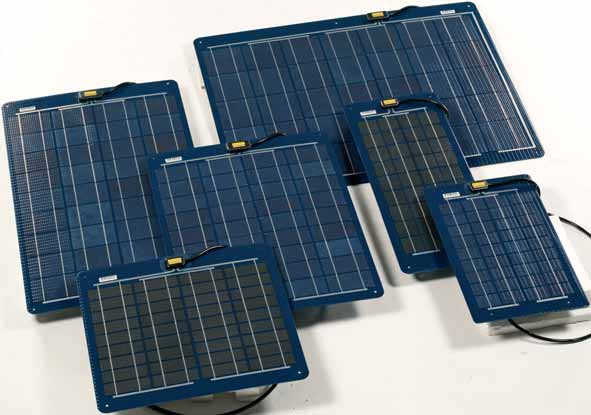 These solar panels are specially designed for the use on boats, yacht, sealights and life rafts.
They can also be used on caravans, electric cars and holiday homes or for changing mobile installations.
Further it has all required features for parking machines e.g. due to the strong and robust construction (no glass, stainless steel).
High Efficiency – High Quality
Each solarmodule is individually measured for reliable functionality and long lasting.
Completely equipped with seawater and UV/Ozone proof solar-cable, edge protection (optional) and mounting holes.
Advantages
High stability through stainless steel backing plate. Flat installation means these can also be walked on!
Steel plate with two layers powder coating.

Flexible and bendable plate for various installations (max.3%) by innovative chaining technology.

Highest efficiency crystalline cells with extremly photosensitive front.

Seawater resistant, highly transparent, self-cleaning Teflon foil.

Small, robust, flat, sealed and waterproof cable outlet, Screwed and potted, for safe connection due to solid design.

Edge protection (on request).

Easy installation, to glue on or to screw through mounting holes.
No Glass
No glass is used to make these panels which in turn makes them the most vandal resistant panel on the market.
Mounting
Quality, easy to install:
With SOLARA® you do have the perfect solution for your energy supply.
The safe and comfortable power production for the maritime and caravan sector.
Proofed SOLARA®-Quality. Just choose the suitable panel from the program.
The solar panels can be glued or screwed on and connected to the regulator – and your batteries are always charged!
Model No.

SM 40 M

SM 60 M

SM 80 M

SM 120 M

SM 160 M

SM 225 M

Application

Off-Grid / Caravan & Motorhome / Yacht & Boat Marine Battery Charging

Rated Power (Watts)

Rated Voltage (Vmpp)

Rated Current (Impp)

Open Circuit Voltage (VOC)

Short Circuit Current (Isc)

No. of Cells

Dimensions MM (LxWxH)

Weight

Nominal Battery System Voltage