Alzone System 360
TTE APPROVED & CERTIFIED
All WIND ZONES APPROVED & CERTIFIED
ALL TERRAIN ZONES APPROVED & CERTIFIED
Need a quote for racking click here
ALZONE TTE360 RACKING SYSTEM

The Alzone TTE360 System is an innovative new solar mounting system manufactured by Alzone using their new Eco-Rail. The Eco-Rail is a new economical rail that can be installed using existing and new Alzone brackets and hardware.
There are a number of advantages over previous Alzone and other brands of mounting systems. The Alzone TTE360 is lower priced due to savings on materials and hardware items used to install the required system. When the system is installed on a metal roof it allows the flexibility to change direction of the modules so the can face north. This is due to the unique mounting system and brackets which allow the rail to be rotated 360 degrees.
Having achieved Systems Certification, the system allows to the edge of roof installation. (T.T.E) Therefore solar modules can be mounted as close to the edge of roof as practical. This benefit allows more modules to be mounted per available roof area than many systems, some of which do not allow mounting closer than 1-2 metres from the roof edge.
The TTE360 System is suitable for all Australian wind regions including severe cyclone regions. Certificates can be supplied for specific installations on request when purchasing this product.
Eco-Rail and its compatible Alzone brackets are made from T6 temper Aluminium, unlike some imported products which use a lower grade and temper material that does not meet Australian standards and have no systems certification for our conditions. This Alzone product and its mounting brackets are finished in a clear anodised finish. Eco-Rail comes in a wide range of lengths to minimise waste. There are longitudinal ribs where module clamps sit to improve grip with a convenient slot in one side for the fitment of the Alzone stainless steel mounting bolts.
A seven year warranty on finish and a 20 year warranty on material fault is a feature of this product and is subject to conditions laid out in the Alzone warranty documents.
Rail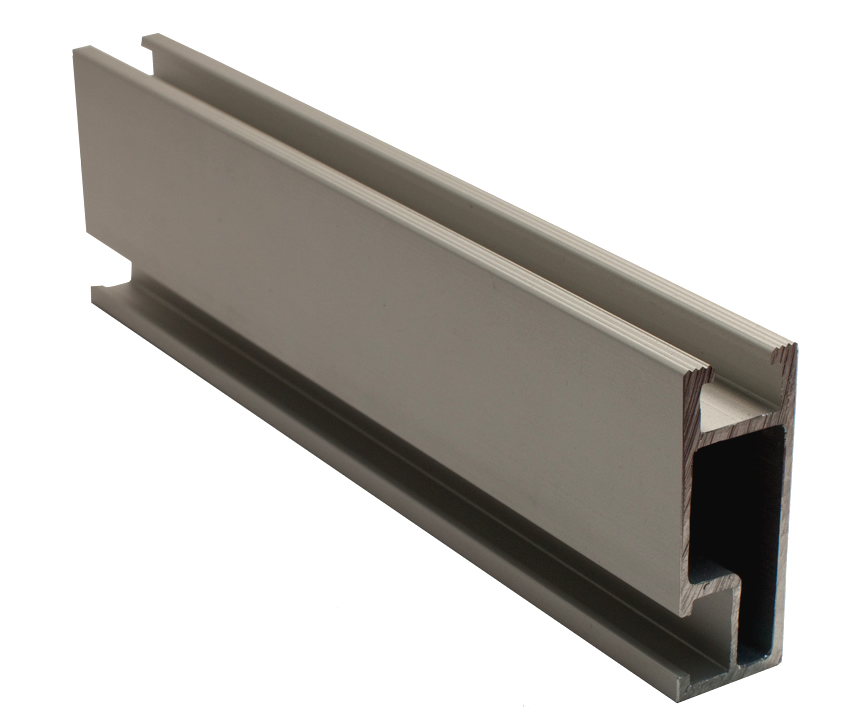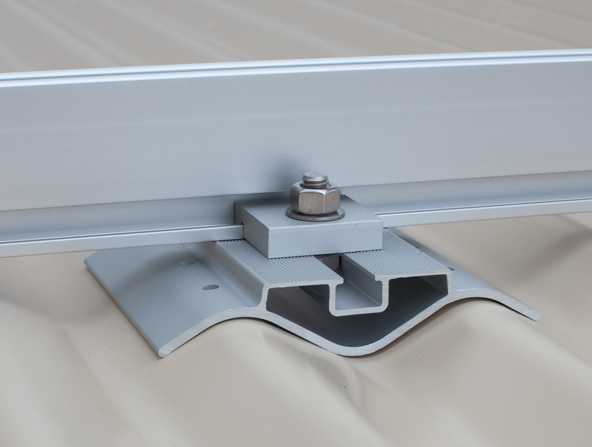 Eco Rail
NEW "Alzone 360 system"
TTE APPROVED
Alzone's new Eco-Rail is a more economical alternative to the standard non-flanged rail.
This lower profile rail has less extrusions, reducing the amount of hardware required to attach the rail to mounting brackets.
The longitudinal grooves on the top of rail ensure exceptional grip for the module securing clamps.
Eco-Rail is compatible with existing Alzone mounting brackets and clamps.
Manufactured from grade T6 aluminium this rail comes in various lengths and is anodised for increased durability.
Eco-Rail systems is suitable for use in all Australian wind regions and approved to meet wind loading, building structure and structural design standards.
When used in accordance with the Alzone T.T.E- 360 system., rail can be rotated in any direction to facilitate north facing aspect and is not limited from the edge of roof mounting other than for safety or ease of system maintenance.
Compliance Certificate

AS/NZS 1170.0:2002
AS/NZS 1170.2.2002
AS/NZS 1664.1.1997
ASTM B117 2000 hr +
ECO RAIL
SPMRE2700
SPMRE2840
SPMRE3150
SPMRE3500
SPMRE4220
SPMRE5300
SPMRE5880
---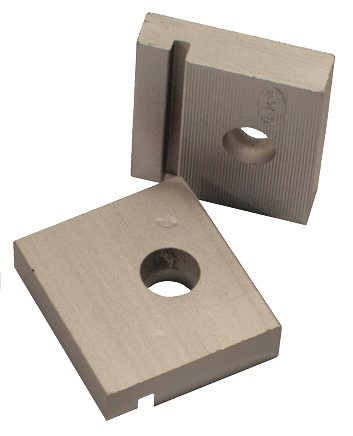 Eco Rail Clamp

The Alzone Eco Rail clamp has been designed and engineer approved to attach the Alzone Eco Rail to the Alzone corrugated foot mounting bracket or Trimdek foot.
The clamp features a recess to fit over the lower part of the rail and attaches to the foot base using a single nut, bolt & washer.
Serrations on the base allow additional grip to the mounting surface. The pre punched centre hole allows the Eco Rail rail to be rotated 360 degrees on the base.
The clamp is manufactured from T6 alloy and has a clear anodised finish for greater weather resistance and corresponds with finish on other Alzone products.
Compliance Certificate

AS/NZS 1170.0:2002
AS/NZS 1170.2.2002
AS/NZS 1664.1.1997
SPMCLAMP
Eco Rail Clamp
SPMCLAMP
---
Corrugated Mounting Bracket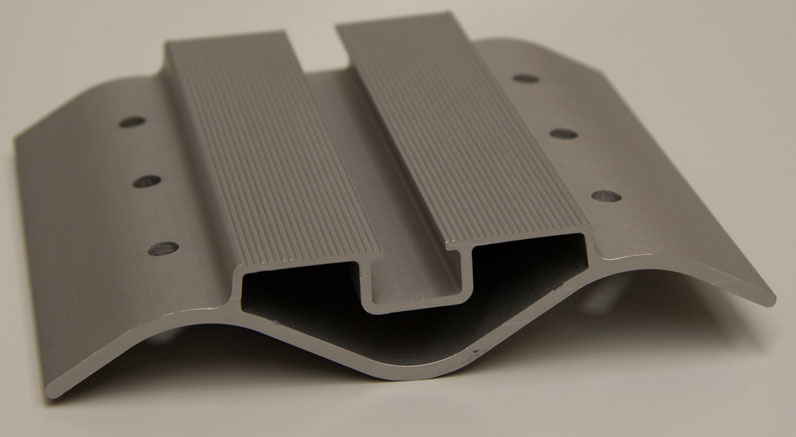 P/No. SPMFCMBCKT
This corrugated foot mounting bracket provides a versatile solution to mounting Alzone standard rail onto corrugated roofing.
When used in combination with Alzone brackets SPMFTEEANGLE or SPMFA6 this foot allows the Alzone rail to be mounted at various direction across the corrugations.
The anodized finish provides superior weather resistance to mill finished aluminium while six pre drilled pilot holes on the foot ensure ease of fitting.
Dimensions W 125mm x L 110mm x H 25mm
Compliance Certificate

AS/NZS 1170.0:2002
AS/NZS 1170.2.2002
AS/NZS 1664.1.1997
FOOT
SPMFCMBCKT2
---
Trimdek foot
SPMFTDEKFOOT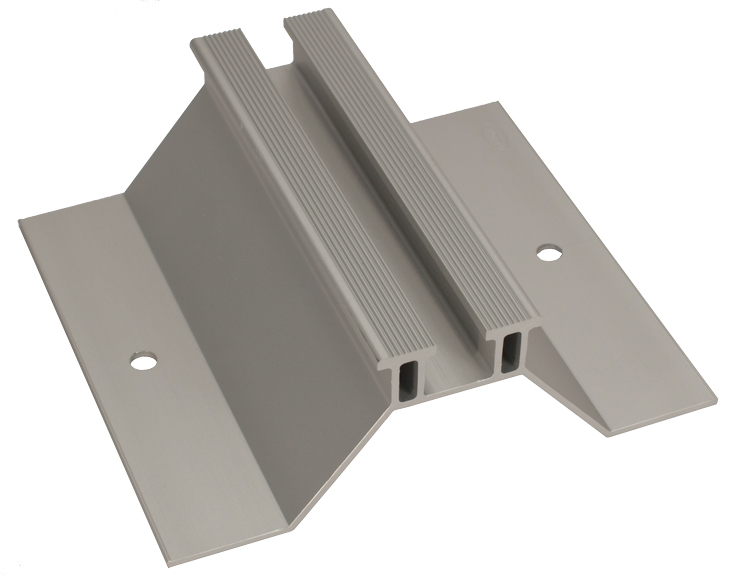 The Alzone Trimdek foot was designed to mount over the raised peak of Trimdek sheeting. The foot allows the attachment of single modules or multiples without the need to fit within the valley of the sheeting. This foot is compatible with existing Alzone brackets or can be used to secure Alzone Eco Rail using a SPMCLAMP with single nut, bolt & Washer. This foot can also be utilised as a mount on other flat profile sheeting .
The Alzone SPMFPAD or SPMTAPE will provide a gasket and isolation between the different metal surfaces.
Clear anodising on this T6 grade aluminium bracket provides increased weather resistance and matches existing Alzone rail and brackets.
Compliance Certificate

AS/NZS 1170.0:2002
AS/NZS 1170.2.2002
AS/NZS 1664.1.1997
SPMFTDEKFOOT
Trimdek foot
SPMFTDEKFOOT
---
Eco Rail Easy Rail Joiner

This versatile Alzone joiner allows two lengths of rail to be connected to form one length. The Eco Rail is secured using two alzone stainless bolts per rail. There are pre-punched holes to make mounting easier. When the joiner is used with Alzone Easy-Rail the raised section on the joiner provides convenient alignment with rail. Pre-punched holes, conveniently spaced allow easy securing using self drilling screws.
The T6 grade aluminium joiner comes in a clear anodised finish to provide a matching finish to the Alzone rail and brackets.
Compliance Certificate

AS/NZS 1170.0:2002
AS/NZS 1170.2.2002
AS/NZS 1664.1.1997
SPMEJOIN
Eco Rail Easy Rail Joiner
SPMEJOIN
Clamps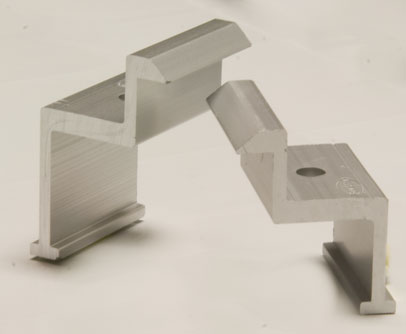 End Clamps
The Alzone end clamps are designed to securely mount solar modules at both ends of Alzone rail sections .There are a number of sizes available to suit most solar modules.
End clamps are pre drilled with grooves on the underside of clamps for advanced grip.
There is no drilling and clamps can be finger tightened on initial installation reducing risk to your valuable modules.
Clamps are manufactured from aluminium and come complete with a weather resistant anodized finish.
Compliance Certificate

AS/NZS 1170.0:2002
AS/NZS 1170.2.2002
AS/NZS 1664.1.1997
END CLAMPS
SPME-32
SPME-36
SPME-46
SPME-50
SPME-39
SPME-34
SPME-42
RAIL BOLTS
SPMBSHOE50
SPMBSHOE60
---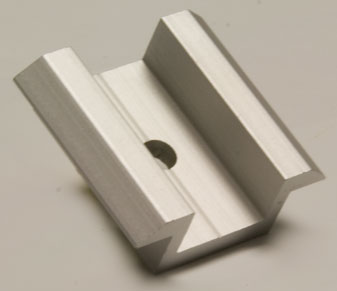 Mid Clamps
Alzone middle mounts are suitable for joining adjacent solar modules together on Alzone rail. Grooves on the underside of the clamps allow a secure grip to modules without the need to drill or damage panels. Clamps are constructed from aluminium which is finished in an anodized weather resistant coating. They provide a fast efficient manner of attachment to Alzone rail.
Compliance Certificate

AS/NZS 1170.0:2002
AS/NZS 1170.2.2002
AS/NZS 1664.1.1997
MID CLAMPS
SPM1
SPM2
RAIL BOLTS
SPMBSHOE50
SPMBSHOE60
Bolts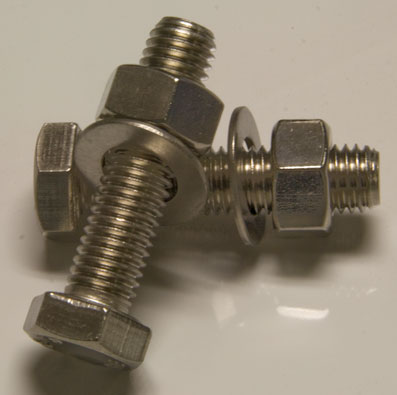 Nut and Bolts

SPMB racking bolts are manufactured from quality grade 304 stainless steel.Each bolt comes complete with a nut and flat washer with spares available on request.The head of the 3/8 bolt is designed to fit into channels of all the Alzone racking ensuring ease of connection to feet and other Alzone brackets.
The larger M12 x 50mm bolt is supplied complete with nut and flat washer and is mostly used as a through bolt for Alzone ground mount systems.M6 x 50mm and M6 x 60mm are used for solar clamp brackets in combination with a specially designed rail shoe which fits into the Alzone rail channel.
Dimension 3/8 x 1", 3/8 x 1 3/4
M12 x50mm
M6 x 50,M6 x 60
Nut and Bolts
SPMB3825
SPMB3845
SPMB1250
SPMB650
SPMB660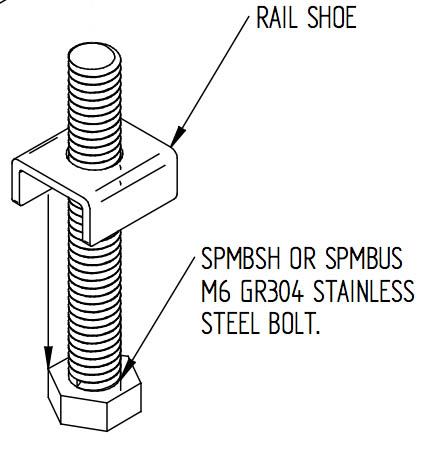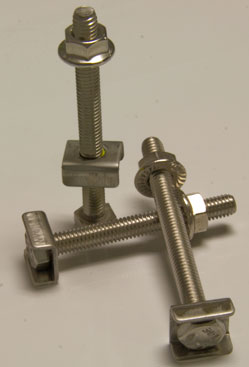 Rail Bolts
Alzone rail bolts are a convenient way to attach middle and end clamps to Standard and Easy-Rail. The durable stainless steel rail bolts provide ease of installation of solar modules via the special stainless steel rail shoe and serrated securing nut.
Compliance Certificate

AS/NZS 1170.0:2002
AS/NZS 1170.2.2002
AS/NZS 1664.1.1997
RAIL BOLTS
SPMBSHOE50
SPMBSHOE60
Shear Nut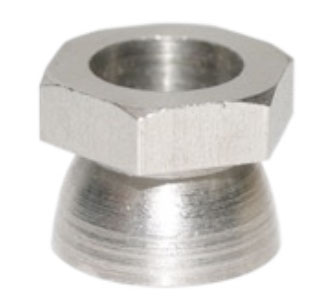 Shear Nut

Stainless steel shear nuts ensure additional security to the fastening of valuable solar modules.
The nut is tightened until the hex nut shears leaving behind a small and difficult to remove cone shaped nut to secure the solar module clamp brackets.
Dimension 6mm
SHEAR NUT
SPMSNUT6MM
Pads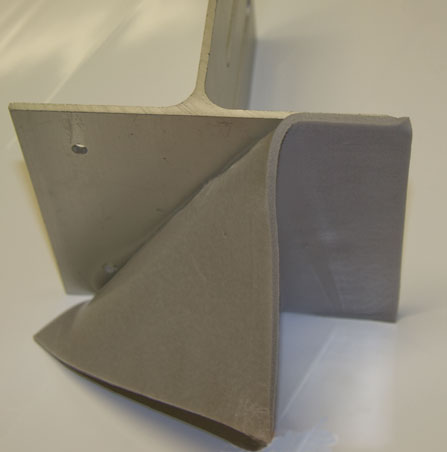 Pads

The closed cell foam pads provide a convenient and economical solution to mechanical separation of dissimilar metals while ensuring a seal against air and moisture.
The pad is resistant to U. V. and fungi while creating an alternative to use of sealants and caulking agents.
An adhesive surface on one side with peal off backing allows a convenient method of attachment to Alzone corrugated or flat feet.
Dimension W 140 x L115 x T 3mm
PADS
SPMFPAD